Work in progress - now finished
---
At the moment (February 03) I am working on a banner for the local school.
It is an exciting project which started with drawings/pictures made by the pupils at the school. The picture made by the pupils in the second grade was selected as the main motif.



Winning motif Final proposal

The pupils made the picture by cutting paper and gluing it to cardboard, which made the motif easily adaptable to applique.
I then drew several proposals using different backgrounds and borders, and the one above was selected.

The motifs will be appliqued on a special silk fabric intended for banners. This is a very expensive fabric, around $400 a metre, so it took several days of measuring, marking, checking, doublechecking, and triplechecking before I could muster enough courage to cut into it.

At the moment I have sewn the trunk, field, and border, and I have started to cut out the leaves and flowers.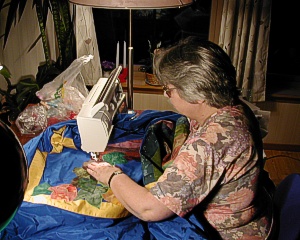 Here I am sewing on the leaves one dark and rainy February afternoon. What a joy to stay indoors and work with such glorious colours.


---


The banner is now finished and can be seen on this page.



---